Auction
Date:
10 October 2023, 6:00 PM - 11:00 PM
Register to our next auction:
Exhibitions
Visit our auction exhibition to view the paintings on sale!
Date:
28 September 2023. - October 9.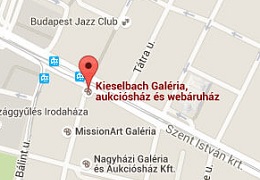 72nd Autumn auction's details
The Kieselbach Gallery cordially invite you to our 72nd Auction, held on 10th of October 2023 at 6 pm in Hotel Marriott Budapest.