Modern Hungarian Painting 1892-1919
(BEAUTIFUL HUNGARIAN BOOK 2003 AWARD)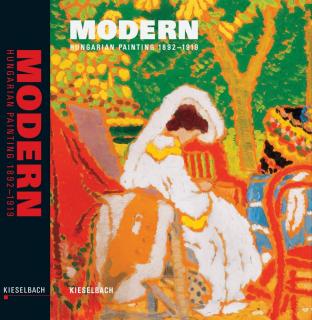 edited by: Kieselbach Tamás
ISBN: 963 212 436 7
| | |
| --- | --- |
| Publisher: | Kieselbach Tamás |
Publication: Budapest
The present comprehensive work in two volumes standing independently (Volume I. 1892 - 1919; Volume II. 1919 - 1964) is a presentation of a century of Hungarian painting - rejecting all compromise. It is no exaggeration to say the painting of the last one hundred years has never been examined on this scale before. Contrary to the Western part of the world most private collections in Hungary - due to the social changes of recent years - are in steady motion and unbroken progress. Therefore Tamás Kieselbach (born in 1964) the well-known collector and dealer in art is familiar with them. The book involved a gigantic process, selecting and photographing from the entire holdings of Hungarian public collections (61 museums), charting private collections (146), seeking out Hungarian works in public collections abroad and shifting through the auctions of the last decade. From the study and selection of something like 70,000 came the 2,000 paintings which appear in these two volumes.
Art historian, collector and dealer in art - all three activities opened up the richness of Hungarian painting for Tamás Kieselbach and in this work he has reproduced numerous masterpieces , as yet unknown, concealed or hidden to the public eye.

The essays that have been especially written for this selection by established art historians, help foreign readers to gain a deeper understanding of the paintings and artists, of the trends and the problems of the period.
As a result of the inventive selection, the quality of reproductions, the proper graphic design and execution we can witness an unprecedented achievement.
It is no exaggeration to say that the most beautiful and exciting reading of the history of modern Hungarian painting will emerge from the pages of this book.