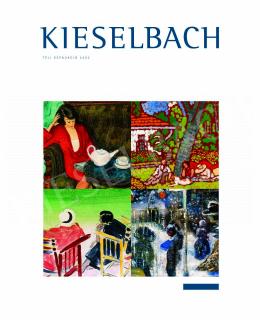 Auction
Date:
06 December 2002, 5:00 PM - 9:00 PM
Exhibitions
Visit our auction exhibiton to see the paintings on sale!
Date:
27 November 2002. - December 5.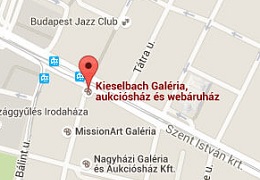 20th Auction 06. 12. 2002.
The expectation had been great preceding this auction, as the quality of the offered paintings had probably never been so high. Exciting bidding had been expected, and no one should have been disappointed: the four-year-old record price of the Hungarian art market was broken - it was set up with 70 million for the In the Park by Pál Szinyei Merse, also at the Kieselbach Gallery, in 1998. Now, the hammer price for It Is Snowing in Nakonxipan by Lajos Gulácsy was 80 million Hungarian Forints (96 million with agency fee). It was a great surprise, as the highest price for a Gulácsy painting had been 7 million (Winter Auction, 2001, Kieselbach Gallery)

Basically, this auction has re-ranked the ten most expensive paintings ever sold at Hungarian auctions, as other high hammer prices were born. A large sized, representative piece from the "corny" period, The Picnic in the Garden of the Róma-Villa by József Rippl-Rónai was sold for HUF 42 million. 40 million was the hammer price of the elegantly grandiose painting; In the Park by János Vaszary. A lyrical picture by Berény Róbert (Red-Dressed Woman in a Green Room) was sold for the immensely high amount of 15 million forints. The Edge of Lake Balaton by Pál Szinyei Merse was sold for HUF 12 million.
We certainly should mention a high hammer price in the category of Old Masters; the highest bid for the protected painting by Jan van der Heyden (Landscape by the River) was 11 million Hungarian forints. This is the only Heyden painting in private property in Hungary.
The Vamp by János Vaszary was sold for 13 million forints. It is a record from several points of view; the highest price ever paid for a watercolour, and the highest multiplier between the starting and the hammer price. It started from HUF 300 000, thus the it was multiplied by 43 at the end of the bidding.

The success of this auction is outstanding in the whole art market in Hungary. Apart form the above mentioned high prices, numerous lots were sold for more than 5 million forints. Consequently it can be stated, that - in spite of the disadvantageous tendencies of the Hungarian and the international economy -, the Hungarian art market is still one of the best grounds of investment.