Auction
Date:
09 May 2016, 6:00 PM
Exhibitions
Visit our auction exhibiton to see the paintings on sale!
Date:
28 April 2016. - May 8.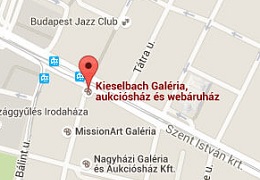 52nd Spring Auction 09. 05. 2016.
52nd Spring Auction's details
The Kieselbach Gallery cordially invite you and your friends to our 52nd Spring Sale, held on 9th of May, 2016 at 6 p.m. in Hotel Marriott Budapest.