>>
>>
Contemporaries Quarantined
Contemporaries Quarantined
A KORTÁRSAK KARANTÉNBAN válogatás szekciónkban, olyan alkotások közül szemezgethetnek az érdeklődők, amelyekkel a Kieselbach Galéria a megváltozott körülményekhez alkalmazkodva egy különleges karantén-tárlatot rendezett kortárs festők és szobrászok részvételével. A kiállítás egyszerre lesz zárt és nyitott. A "látogatók" a fizikai valóságban csupán a Falk Miksa utca és a Szent István körút felé néző kirakatok ablakain keresztül nézhetik meg a falakon sorakozó műveket. Ám az online tér lehetőséget ad arra, hogy mindenki otthonról is megtekintse a tárlatot a galéria internetes oldalán keresztül. 
Newsletter
Step-by-step
We are making Hungarian painting world famous!
Certificate of authenticity for every work of art

Personal viewing in the gallery

Free painting valuation
Contact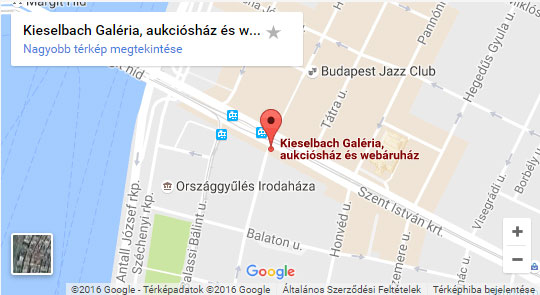 1055 Budapest, Szent István körút 5.
Opening hours: from Monday to Friday 10 a.m.-6 p.m., on Saturday 10 a.m.- 1 p.m.
×

Subscribe to our newsletter